Send an Enquiry
If you would like to make a group booking or have a comment about Adventure Golf / The Fun Park, please complete the form below and we'll get back to you.
Fun Park @ St Nicholas Park, Warwick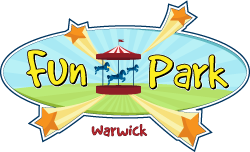 Any trip to St Nicholas Park simply has to include the Fun Park!
Open from the first half term of the year until the last half term of the year (see TIME TABLE at the bottom of this page), with a great range of rides and games from water shooters to the classic Teacup ride, the Fun Park is ideal for toddlers up to 12 year olds.
The Funland Express is an ideal ride for younger children. Older kids will love the Orbital Cars and the HillBilly shooter game is guaranteed to have mums and dads as addicted as the kids!
As well as rides there are water canons and other coin operated games and the Candy Cabin serving fresh candy floss, sweets and ice-cream.
The Fun Park includes the following rides, amusements and games:
Runaway Mine Train
Flying Fish
Teacups
Balloon Madness
Mini Miami
Jungle Blaster
Remote Boats
Orbital Cars
Hill Billy Shoot-Out
Hill Billy Train Ride
Adventure Canoe Ride
Mini Observation Wheel
Coin operated games
Candy Cabin
All rides operate on a credit only system and most of the coin-operated attractions operate on token or cash basis.
Credit Prices
There is a £1 deposit for the Fun Pass which can be redeemed when the Fun Pass is returned at the Token Box or Candy Cabin.
Credits are refundable but bonus credits are not and will not be used until after all non-bonus credits have been used. For example, when you purchase 16 credits, you pay for 14 and get 2 free.
The prices for the credits are as follows:
£1 each
16 credits - £14
30 credits - £24
60 credits - £44
Credits are available from kiosks and machines within the Fun Park.
You can register your Fun Pass for a 20% bonus on all future top-ups (Please allow at least 12 hours for registration to take effect).
Please click on the following link to register your Fun Pass: http://www.myfunpass.co.uk/

Mini Golf